Micro Nation just announced the results of Micro Nation Challenge – 2 (VACANZA). 
Challenge is to design a holiday cottage for a resort on an island.  There was a lot of interesting projects submitted.
Below we present all winning entries:
Project by: MD. Galib Nur Anan 
[Bangladesh University of Engineering and Technology (BUET)] Dhaka, Bangladesh
When a person goes for a holiday, he expects peace and some comfort. He wants activities that are different from his daily routine. Some self care activities and time are looked forward to. This entry has made sure that the person gets all of these in the cottage.
The particpant has very innovatively incorporated the natural element 'sand' in his design, used it in every possible form and extracted the best out of it.
Special care it taken to provide activies for all the age groups and user types.
In this design, the user gets to interact with the environment at its fullest.
Using clay, sand and bamboo as construction material creates a feeling of freedom from the concrete walls of urban cities and also they help in keeping the interior cool, which in turn eliminated to use of air conditioners.
Hats off to the participant!!
MNC2-336
Project by: Zubair Saadat
[Khulna University] Khulna Sadar, Bangladesh
The concept of a convertible roof is unique in itself. This blurs the boundary between inside and outside. The build-up in itself is a complete package.
The concept of giving air gaps in the roof ensures proper ventilation inside the building. The open environment inside the built-up creates a sense of openness.The form is inspired by sea creatures which creates a connection with the surroundings.
The sheet composition is calm and serene in itself.

Great Job !
MNC2-164
Project by: Sanam Abdulsalam
[College of Engineering] Trivandrum, India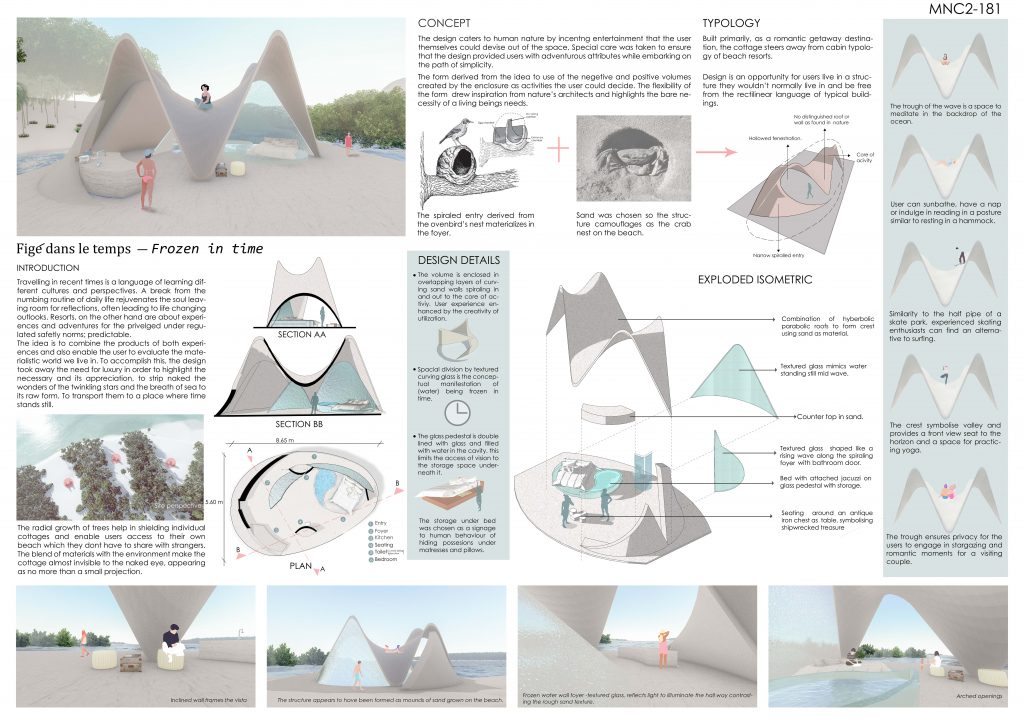 The fact that the user will be having their own sanctuary, is used very effectively in this entry. The entry has broken lose out of the fact that walls are a must to create an enclosure.
The form and color of the design creates a camouflage effect on the site. The levels and curves created in the form are applaudable. The form itself allows the flexibility of carrying out various activities within the built-up.
Overall an self explanatory composition of sheet.
MNC2-181
Project by: Mahesh
[Sri Manakula Vinayagar School of Architecture] Pondicherry, India
MNC2-419
Project by: Asia Luthfiah
[Bandung Institute of Technology] Bandung, Indonesia
MNC2-384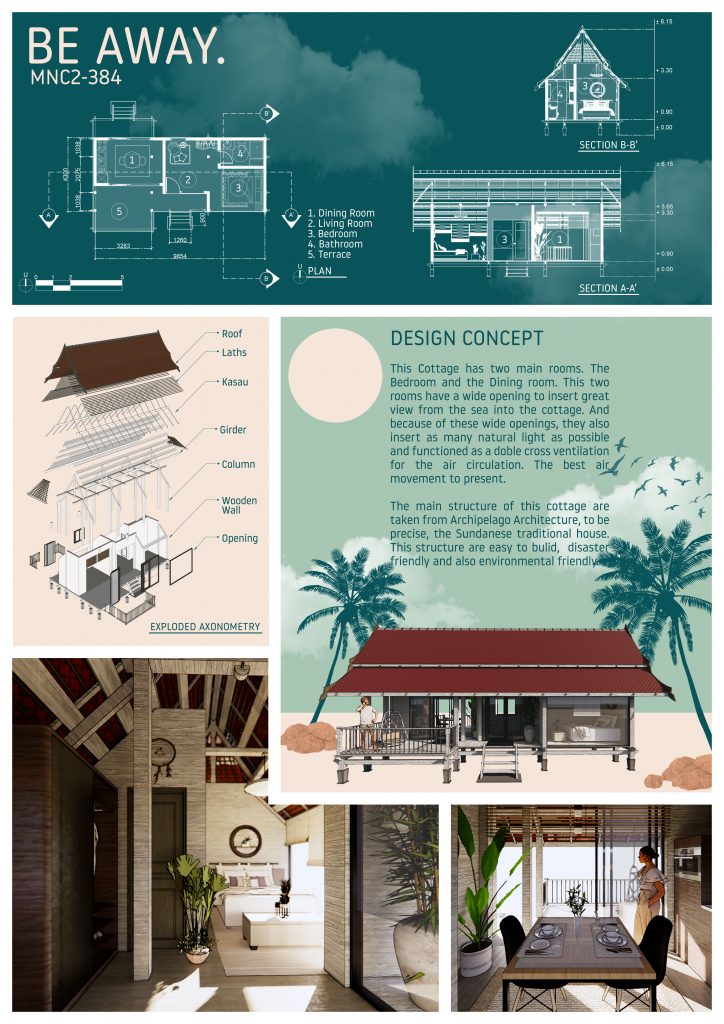 Special Honourable Mentions
MNC2-028
Sri Sahiti Vemavarapu
Birla Institute of Technology, Mesra
Dhanbad, India
MNC2-175 
Tam Shing Yat (Samuel) 
TU Delft 
From Hong Kong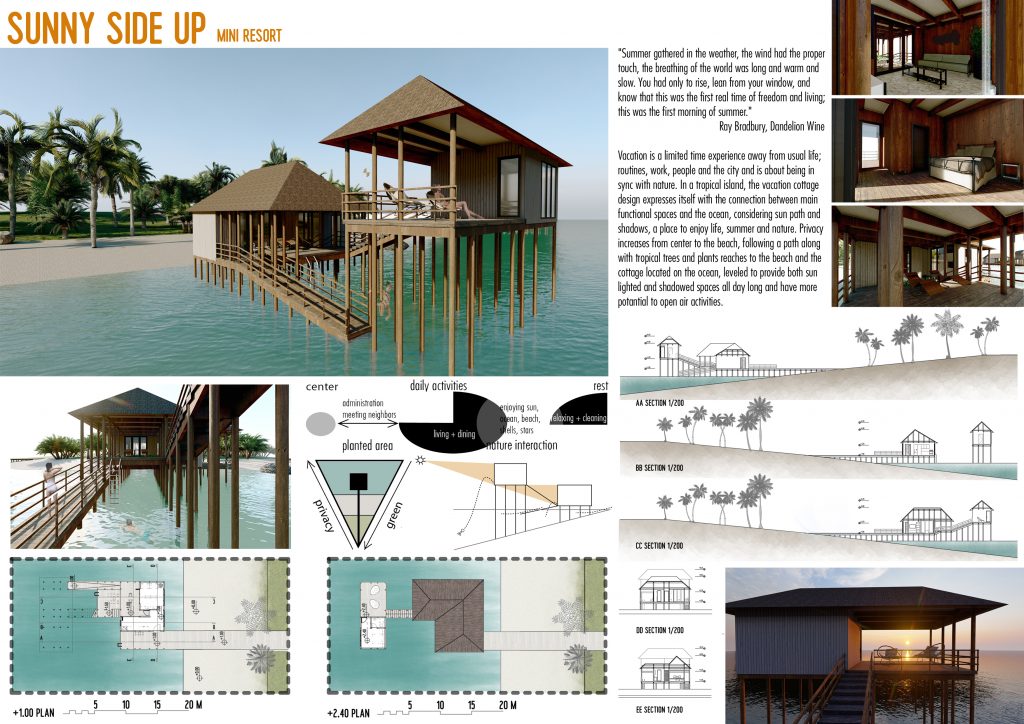 MNC2-216 
Edanur 
Istanbul Technical University 
Istanbul, Turkey
MNC2-396
Manish Kumar
School of Planning and Architecture 
Vijayawada, India
MNC2-148
Subhadeep Sakrar
School of Planning and Architecture 
Abu Dhabi, UAE
All participants have done a marvelous job, we are grateful to have such amazing entries. We have gone through each and every entry and it was very tough to choose a winner. So those who didn't find their entry don't loose hope and better luck next time. Stay Tuned!!
Congratulations! to the Winners.
Team Micro Nation.